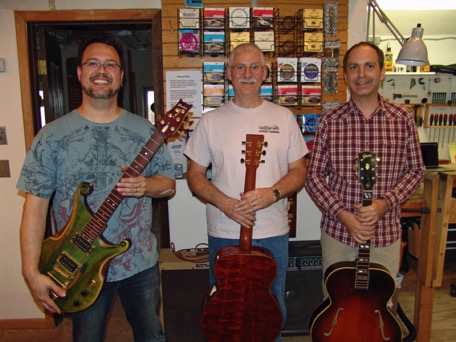 Our latest Fretting and Set-Up class students December 2017.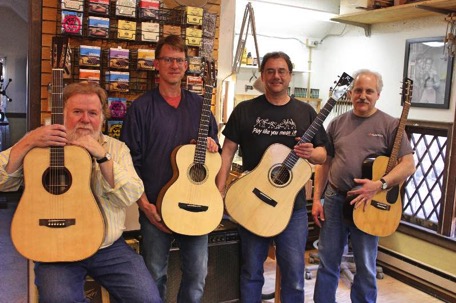 Ann Arbor Guitars
offers professional and hobbyist level Lutherie classes. Our classes are generally a one day class with instruction from Master Luthier David Collins and a hands-on opportunity to learn many of the operations that Luthiers commonly have to accomplish. The classes were also specifically designed for small builders who may be doing fine with the woodworking aspects of building a guitar but who may also lack the understanding necessary to complete the "user interface" to the instrument or the fret work and set-up, nut making, saddle making compensation, gluing on bridges with hot hide glue, etc. After all guitars are ultimately tools for musicians not wall hangings.....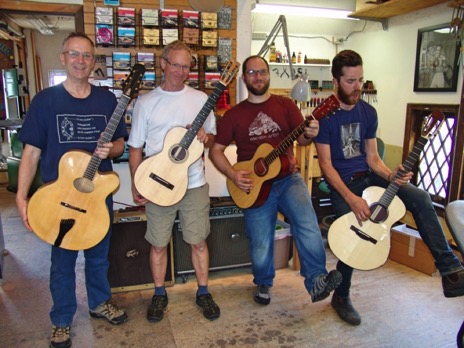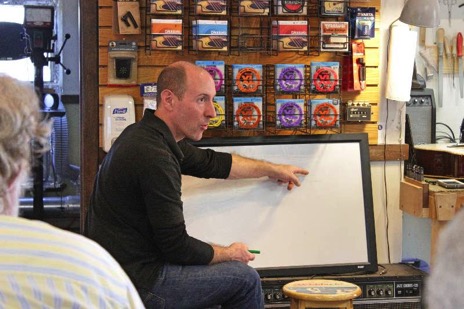 Classes are held in our shop and students will be introduced to time-tested methods from the past as well as the very latest thinking in the trade as to how to approach the individual tasks. David is a frequent flyer so-to-speak and respected speaker at the "invitation only" Luthier gatherings where many of the latest techniques are shared and revealed. Our classes may, when appropriate, bring this information to our students.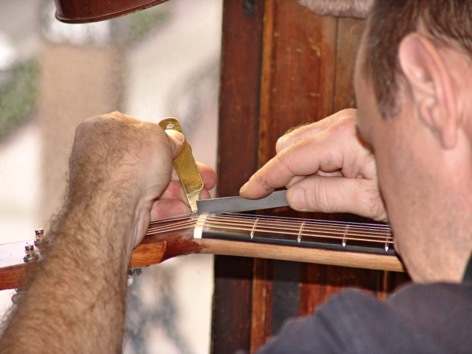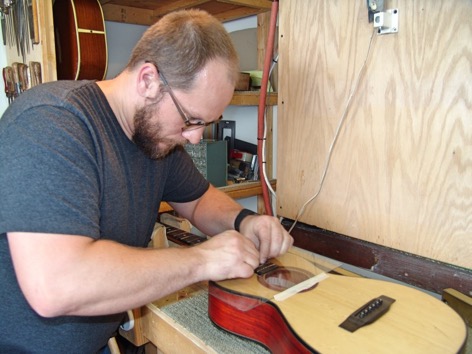 Class Schedule
February 16 - 17, 2018 class being considered
SOLD OUT

December 1st and 2nd, 2017
SOLD OUT

Custom, private classes available for groups
of three or four
please call to discuss


Custom Classes: We are no longer offering either the Fretting Class or the Set-up For Builders classes that are regularly scheduled as "pick one class only" choices. We have learned that since many of our students travel great distances to take both classes letting folks reserve only one class creates problems for folks wishing to enroll in both, back to back classes.

As a solution to the issue of providing a single day class in either topic and even other topics TBD... we will offer special classes that are one day or more upon request. We are open to letting you suggest the dates if they work for all of us. Please call to discuss and for a quotation.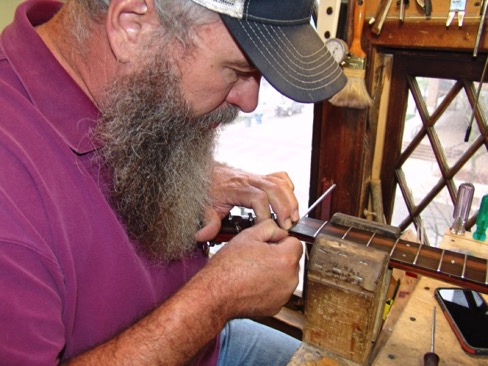 About our classes: Students will receive individual as well as group instruction and our student to instructor ratio is 2:1 affording our students with a unique opportunity to have as much individual instruction and assistance as they wish.

The methods and techniques that we teach are the very same methods and techniques that we have been successfully used to repair or build thousands of guitars, mandolins, banjos and other plucked, stringed instruments.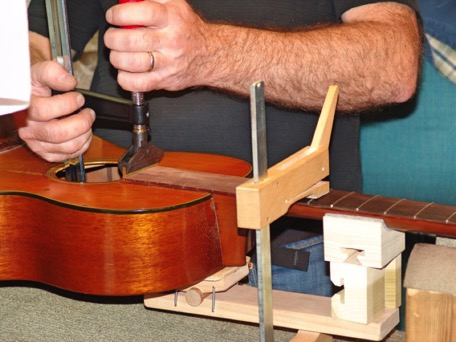 Classes are offered on a first come first served basis and they tend to fill up very quickly. The last two that we announced were filled in 48 hours....

Currently we are offering two different classes: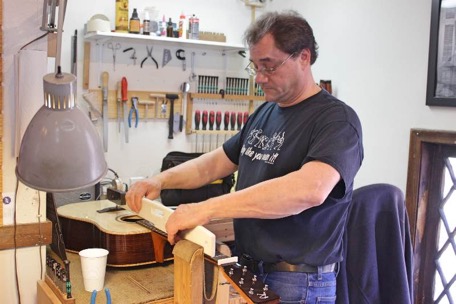 Fretting: Learn how to successfully fret any guitar using best practices with a healthy dose of theory as well so that students can understand why they are doing what they are doing. Learn about fretting bound fret boards, compression fretting, fall-away - what it is and why it's important, and relief. Students also learn how to fret or refret on a completed instrument and also how to "dress" frets so that your offerings or personal fleet remain in tip-top playing order. Students at the end of the day leave the class with a completely fretted instrument.

Set-up For Builders: Learn about bone (or other materials) nut and saddle making. Learn about compensation and making compensated saddles. Students also will learn a method that we developed that permits one to use hot hide glue to glue on a bridge with no worries about the short open time of the glue and premature jelling.... Most of all though students will learn how to completely set-up an instrument to play and sound fantastic with tried and true, repeatable methodologies that can be used on any guitar and for anyone.

The cost for our one day classes is $350 and for our two day classes $600 with a 50% non-refundable deposit due when booking your seat. The seats are perishable and in our experience coveted as well and they typically do not remain available very long so don't delay.

To book your seat in any of our available classes please call, 734 332-6142 or email us today.